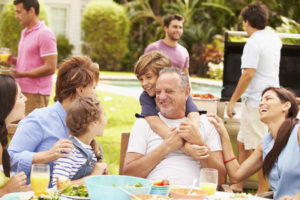 The summer is officially in full swing. With the Fourth of July holiday weekend just days away, now is the perfect opportunity to freshen up on some tips for keeping your children safe during celebrations that take place around water.
Inspect Your Safety Fence – With our beautiful, year-round weather, homeowners should inspect safety fences around pools and water features at the beginning of each season. However, it's especially important to inspect it before having any summertime celebrations at your home. For more tips on preparing your home for a safe summer, read our blog: Residential Pool Safety Tips for Your Summer Fun.
Have a Water Watcher – This may be the single most important step for water safety during the weekend's festivities. With a buzz of activity, it's easy for an adult to get distracted by conversations, introductions, or other hosting duties. Every time you have children around water, it's important to designate someone to be the Water Watcher. This individual's sole responsibility is to supervise the pool and ensure everyone's safety.
Teach Children to Swim – The best defense against childhood drowning is to teach your child the skills he or she would need to stay afloat in water. At Premier, we teach children of all ages, so that they can enjoy a lifelong love of the water.
Understand Their Ability – Not all children have the same abilities in the water. Especially when enjoying the water with children of ranging abilities, it's essential to understand your child's ability and monitor his or her activities in the water accordingly.
Recognize Their Curiosity – From one day to the next, a child's curiosity can change. This can be dangerous around the water, as a curious child may venture too close to the pool, ocean tide-line, or fountain.
Avoid Floating Toys – While lots of fun, floating pool toys can give children a false sense of security and invite them to adventure above their skill levels.
Discourage Competitive Underwater Games ­– Games such as "who can hold their breath the longest" may seem like innocent fun, but they can lead to hyperventilating or losing consciousness.
Keep Pool Toys Hidden – Children who see something that they want can become determined to get it. Whether fun toys are inside the pool gate or simply sitting near the water, it can invite kids to get closer than they normally would without an adult.
Walk the Property at Parties – Summer parties often take place at someone else's home. Just because there isn't a pool in the backyard doesn't mean there isn't a drowning hazard around. Before letting your kids run off into the yard, walk the property to look for fountains, hot tubs, or other water features.
Check the Pool First – If a child goes missing, always check the water first. When it comes to drowning, every second counts.
Whether through childhood swim lessons or American Red Cross first aid courses, our #1 goal is to help create a safer community. For more information on drowning prevention, please read our two-part series: Reducing The Risk Of Childhood Drowning.
From the entire team at Premier Aquatic Services, we'd like to wish you a happy and safe Fourth of July weekend.