Course Description:
This Lifeguard Certification Course requires participants to complete an online blended learning course as well as 2 days of onsite classroom and in-water training. By registering for either day you are automatically enrolled in both days, so please register for only one date.
This Lifeguard Certification Course is to provide entry-level lifeguard participants with the knowledge and skills to prevent, recognize and respond to aquatic emergencies and to provide care for breathing and cardiac emergencies, injuries and sudden illnesses until emergency medical services (EMS) personnel take over.
Our courses are designed and taught by industry-leading professionals who are motivated to help prepare you for the many incidents that can arise while in, on, and around the water as you begin, or advance, your career as a Professional Lifeguard. This is done as we progress through the coursework as a class, in small groups and, when necessary, in one-on-one training with your certified instructor.
Lifeguard Certification Prerequisites: 
Participants must be 15 years old
Participants must complete the required online course before attending the registered 2-day course.
Pass the following swim test on the day of class:

1. 300-yard swim using front crawl or breaststroke

2. 2-minute tread using legs only

3. Retrieve a 10-lb dive weight from 7 ft deep, surface and swim 20 yds with the weight, using legs only and exit the pool without using a ladder
Lifeguard Certification Requirements: 
Complete the required online course before the first day of class. To access the online portion, go here.
Attend and participate in all class sessions and activities.
Demonstrate competency in all required skills.
Pass the final skills scenarios.
Successfully pass the final written exam with a minimum grade of 80%.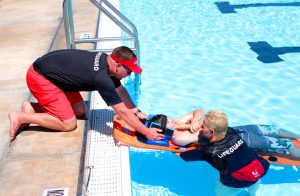 To access the online portion, go here.  You will just need to create an account and set up a password. This course will normally take between 8-12 hours to complete. If you have any issues registering for the course, please contact the American Red Cross directly at 1-800-733-2767. We do not have access to your American Red Cross account.
Already Have a Current American Red Cross Lifeguarding/First Aid/CPR/AED Certification?
Sign Up for the 1-Day Lifeguarding Recertification Course
Work as a Lifeguard
With a current Lifeguard Certification, you make yourself eligible for the ultimate summer job! Click here to learn about lifeguarding at Premier!
Certificate Issued:
American Red Cross certificate for Lifeguarding/First Aid/CPR/AED
Find Out About Lifeguard Jobs: 
Lifeguard Jobs
COURSE TRANSFER / CANCELLATION FEE
To view our cancellation and transfer fee
click here
Register for a Class Near You:
Date
Time
Openings
Location
Register