Laguna Niguel Racquet Club
Location
23500 Club House Drive,
Laguna Niguel, CA 92677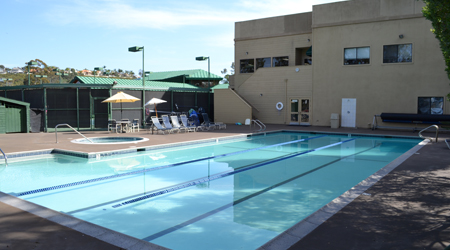 The Aquatic Center at Laguna Niguel Racquet Club is located in the beautiful Laguna Niguel in Orange County, CA.
The Laguna Niguel Racquet Club pool is an outdoor, junior Olympic-size swimming pool, which is heated year round at a comfortable 82 degrees. An outdoor Jacuzzi is conveniently located by the pool.
Premier Aquatics is the swim lesson contractor and offers both private and group swim lessons for all ages at competitive pricing, compared to surrounding facilities.  The swim lessons offered at the aquatic center are designed to teach swimming in the safest and most enjoyable way possible.  Participants will be paired with an instructor who is eager to teach and loves what they do!  Swim lessons will begin in April and will continue through the duration of the summer.  Swim lesson participants will be taught how to swim based on different levels.  Within each level taught, swimmers will learn multiple tasks that they will be able to advance through.  Throughout the entire learning process, swimmers will be having a great time!
Laguna Niguel Racquet Club also offers water aerobic classes for people of all ages and abilities, including those who suffer from arthritis.  Classes are held on Tuesday and Thursday at 11:00 AM.
One of the many amazing benefits of swimming at the Laguna Niguel Racquet Club is their Pure Natural salt pool.  The pool is fresh water, with the benefits of a saline pool. A saline swimming pool lacks the harmful chemicals that can cause damage to the skin, eyes, and hair. We use a system called Eco-MATIC as an alternative to the use of "pool chlorine" and other sanitizing chemicals for pools and spas. Pure natural salt is added, which coverts the water to beautifully healthy mild salt water. Eco-MATIC automatically produces all of the required sanitizer and eliminate the need to ever add "pool chlorine", algaecides or "shock" chemicals, by using and recycling the dissolved salt. It is the best water you'll ever experience!
If being a swim instructor at the Laguna Niguel Racquet Club is something that interests you, please visit our website at www.swimoc2.com/careers for more information on available jobs and how to apply.