California Public Safety (TITLE 22) and Lifeguard
Course Description:
The state of California mandates public safety personnel to undergo no less than 23 hours of advanced first-aid training. California specifies public safety personnel as lifeguards, firefighters, police officers, or any state or municipal agencies that must perform first-aid.
Prerequisite 
Candidates must be 15 years old at the time of the class

Attend all three (3) days of class

Pass and score 80% or better on the Title 22 written exam

Pass and score 80% or better on the Lifeguarding written Exam
American Red Cross Textbook
Emergency Medical Response: Follow this Link and click on download in the top right-hand corner.
Lifeguarding Manual: Follow this Link to view the manual.
Certificate
Once you have successfully passed your course, you will be issued an American Red Cross Title 22 certificate valid for two (2) years.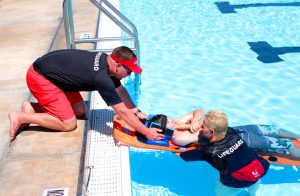 Work as a Lifeguard
With a current Lifeguard Certification, you make yourself eligible for the ultimate summer job! Click here to learn about lifeguarding at Premier!
Certificate Issued:
American Red Cross certificate for Lifeguarding/First Aid/CPR/AED
Find Out About Lifeguard Jobs: 
Lifeguard Jobs
COURSE TRANSFER / CANCELLATION FEE
To view our cancellation and transfer fee
click here
Register for a Class Near You:
Date
Time
Openings
Location
Register